Rebecca Grossberg with Julie Smith, 2004 Car-Free Challenge prize winner.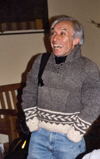 Francisco Rodriguez reduced the most car miles in the 2003 Car-Free Challenge.
766 people participated in the 3rd Annual
2-Week Car-Free Challenge
(September 22 – October 5, 2005).
454 participants turned in their trip logs.



Total vehicle miles reduced: 52,191 miles*
2.1 times around the Earth!
Together we effectively removed 136 cars from the road (driven 10,000 miles per year). Every 6 car-free challengers removed 1 car.

We saved 2,088 gallons of gasoline and $6,263 in two weeks.
If participants kept up this behavior for a year, we would save 54,279 gallons of gasoline. Each participant would save $213.
We reduced 41,753 pounds (21 tons) of carbon dioxide emissions.
Equivalent of planting 21 trees in two weeks.

If participants kept up this behavior for a year, together we would reduce: 543 tons of greenhouse gas emissions.

We reduced 188 pounds of nitrous oxides (NOx) and 120 pounds of volatile organic compounds (VOCs), the precursors to ground-level ozone.
Total miles bicycled: 13,001
Total miles walked: 1,359
Total miles bussed: 10,402
Total miles carpooled: 27,872
The extra miles biking and walking add up to 100 extra calories burned per person per day, the equivalent of jogging a mile a day!
Teams that reduced the most miles:
1) Marshall Erdman & Associates, 166 miles per person
2) Sierra Club, 139 miles per person
3) UW-La Crosse, 132 miles per person
Teams that were most car-free:
1) Saris Cycling Group, 62%
2) Physicians Plus Insurance Corp., 56% car-free
3) Madison Children's Museum, 52% car-free
Individual Awards
Recruited the Most Car-Free Challenge Participants
1) Judy Skog and Mark Durussel (12 each)
2) Tory Kress, 10 participants
3) Charlie Rein, 9 participants
Most Bike Miles
1) Ken Scott (UW-Madison team), 416 miles
2) Steve Day, 226 miles
3) Steve Wagner, 206 miles
Most Walking Miles
1) Gary Dikkers (Wisconsin DOT team), 85 miles
2) Erika Janik, 74 miles
3) Debbie Dines (Network222 team), 46 miles
Most Transit Miles for Commuting
1) Milton Grossberg, 320 miles (CalTrain, CA)
2) Amy Overby, 238 miles (Metro Transit)
3) Tanya Anderson, 171 miles (Metro Transit)
Longest Trip by Mass Transit
1) Carol Weidel, 1678 miles
2) Chris Hartley, 1666 miles
3) Stuart Weber, 650 miles
Most Miles Reduced by Combining/ Avoiding Trips
1) Eric Ciula, 809 miles
2) Fred Swanson, 221 miles
3) Jane Houg (Home Savings Bank team), 208 miles
Car-Free Family with Kids
1) Michael Lemberger (UW Hospital team), 66% car-free
2) Michael Majewski (WI DNR-Air Managemet team), 56% car-free
3) Karen Jackson (Meriter Hospital team), 51% car-free


Sold Car During the Car-Free Challenge!
Aaron Crandall and Adam Benedetto

* Note on miles calculation: 454 participants reported a total of 39,711 miles reduced. We assumed each of the 312 non-respondents reduced 20 miles per week. The estimated grand total is 52,191 miles reduced in two weeks.